30.Oct.2013
A series of daily updated dance vol.3 & vol.4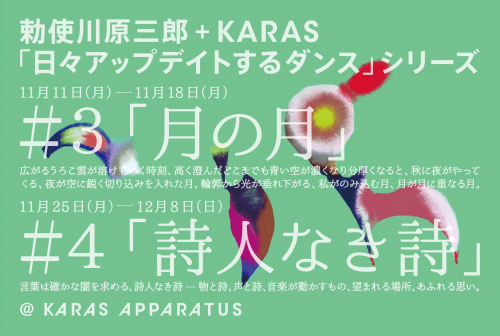 A series of daily updated dance vol.3 "Month of the Moon"

Date :
Nov.11th (Mon) 20:00
Nov.13th (Wed) 20:00
Nov.15th (Fri) 20:00
Nov.16th (Sat) 16:00 / 20:00
Nov.17th (Sun) 16:00
Nov.18th (Mon) 20:00

Cast : Saburo Teshigawara, Rihoko Sato, KARAS Dancer's
Duration : 60mins

A series of daily updated dance vol.4 "Poem Without a Poet"

Date :
Nov.25th (Mon) 20:00
Nov.27th (Wed) 20:00
Nov.29th (Fri) 20:00
Nov.30th (Sat) 16:00 / 20:00
Dec. 1th (Sun) 16:00
Dec. 2th (Mon) 20:00
Dec. 4th (Wed) 20:00
Dec. 6th (Fri) 20:00
Dec. 7th (Sat) 16:00 / 20:00
Dec. 8th (Sun) 16:00

Cast : Saburo Teshigawara, Rihoko Sato, KARAS Dancer's
Duration : 60mins

[vol.3 & vol.4]

Place : KARAS APPARATUS

Book Tickets : E-mail / ticket@st-karas.com
*Email subject "update booking"
*Please tell us your name, phone number, date and how many ticket do you want.
*Ticket booking is up to 24 hours of the previous day.
17.Oct.2013
"REUNION" in Luxembourg
Saburo Teshigawara and Rihoko Sato will be performing "REUNION" with pianist Francesco Tristano in Luxembourg this saturday, sunday.
Find details on following website.
click hear

Works "REUNION"
23.Sep.2013
Saburo Teshigawara's drawing + video exhibition "ACCELERATING STILLNESS" @ KARAS APPARATUS
Saburo Teshigawara is known for his total aesthetics to create stage design and lighting design, as well as the choreorgraphy.
In addition to this, he also draws nearly all the time, like breathing, so he says.
The drawings have a constantly transforming quality with no beginning or end, just like his dancing.
This is his 1st solo exhibition.
The French newspaper "Le Monde" once remarked his drawings as "the fluid form of life".
see
The exhibition goes on from 20 Sep until 4 Nov.
Throughout the period, there will be 3 programs of video showings going on simultaneously.
Program A) 20 Sep - 6 Oct
・Perspective Study vol.1
・T-CITY
Program B) 8 - 24 Oct
・Friction of Time - Perspective Study vol.2
・KESHIOKO
・A Tale Of
・On Fårö Island
Program C) 25 Oct - 4 Nov
・Glass Tooth
・NOIJECT
・SHE
・Ishi-no-Hana
・MIROKU
・LUMINOUS
【OPEN】
Mon,Wed,Fri,Sat 14:00~21:00 / Tue, Thu, Sun 14:00~18:30
(Mon are closed except on national holidays)
【Entrance fee】
1200yen (1 time)
3000yen (3 times during the whole period)
KARAS APPARATUS
apparatus@st-karas.com
5-11-15-1F/B1/B2, Ogikubo, Suginami-ku
Tokyo, 167-0051, Japan
tel/ +81 (0)3 6276 9136
25.Jul.2013
Saburo Teshigawara x Keiji Haino Live Performance @Koenji HIGH
This summer, Saburo Teshigawara will perform special live performance with Keiji Haino, a musician who carries out his through aesthetic toward to rock and fascinates audiences with the unique vocal style and guitar technique.
This is gonna happen only at the night and seats are limited.  Please reserve a ticket early to witness the collaboration.
Saburo Teshigawara x Keiji Haino
Special live Performance "Ichi on ichi on"
Cast:Saburo teshigawara (dance)、Keiji haino (music)
Date:2nd August, 2013 (Fri) 19:30 start / 18:30 door open
Place:Koenji HIGH
4-30-1, Koenjiminami, Suginami-ku, Tokyo, 166-0003
TEL 03-5378-0382
http://koenji-high.com/
Ticket:4500 yen(without drinks)
e+(e plus)http://eplus.jp/sys/main.jsp
*Also available at Koenji HIGH
(This time, tickets not available at KARAS)
18.Jul.2013
Web Site Revamped
You might have already noticed, but our web site have been revamped.
There also is a new page about our new attempt of creation called "KARAS APPARATUS" where things happen "daily".
In "Works" page, more works and details have been updated.
We will be updating the site fluidly with words and images.
1.Jul.2013
Dance Workshop at KARAS APPARATUS
This workshop is for anybody who is willing to experience new discoveries through their own bodies.
Release your breathing, and melt whit music. Learn to gain control of your body.
A unique method created by Saburo Teshigwara, through research from the very beginning his career.
PLACE :
KARAS APPARATUS STUDIO B1
Insula Ogikubo 1F-B2, 5-11-15, Ogikubo, Suginami, Tokyo, 167-0051
3 minutes walk from ogikubo St. (JR Chuoh Line/Tokyo Metro Marunouchi Line)
DATE :
Tuesday 19:30-21:00
Wednesday 10:30-12:00
Thursday 19:30-21:00
Friday 10:30-12:00
Saturday 10:30-12:00
Sunday 10:30-12:00
Opening July, 2013

INSTRUCTORS : Saburo Teshigawara/ Rihoko Sato/ Mie Kawamura/ Eri Waikawa/ Rika Kato

No ages limit, no experience requied.

For the application, fax or e-mail us whit your information including address, name, age(grade), phone number and class you wish to take.
We will send you back more information.
◆FAX : 03-3682-7441
◆E-mail : workshop@st-karas.com

KARAS APPARATUS
Saburo Teshigawara's own unique space for creation, opening this July 2013. APPARATUS meaning that the space itself is an apparatus (=tool, set) for creating and realizing Saburo Teshigawara's philosophy. A compact 3 floor space with a theatre, rehearsal studio, and gallery, completely covered with dance mat. It is our aim to transmit our creative work daily from here, to the world.
25.Jun.2013
New creation in Tokyo
SECOND FALL
6〜8th, Sep 2013
Tokyo Metropolitan Theatre
1.May.2013
May Asia,Europe Tour
15.Apr.2013
La Folle Journèe au Japon 2013 in Tokyo
18.Mar.2013
Infinity ∞ Universe of Pipe Organ -Through Bach and beyond in Tokyo
Infinity ∞ Universe of Pipe Organ -Through Bach and beyond
12th, Apl 2013
Tokyo Metropolitan Theatre
11.Feb.2013
DAH-DAH-SKO-DAH-DAH in Wien
European premiere
DAH-DAH-SKO-DAH-DAH in Wien
15th, 16th March
Teater : Tanzquartier Wien
30.Jan.2013
Special performance Spring, in one night – inspired by Bruno Schulz's Spring in Tokyo
4th,5th March
Theater X(CAI) Tokyo
10.Jan.2013
New Years Greetings / Schedule for 2013
Wishing you all the very best for the New Year!
Here is our schedule for 2013.
■26, 27 Jan New creation "Dancer R's Cell"/ Tokyo Metropolitan Theatre, Japan
http://www.geigeki.jp/performance/theater015/
■4,5 Mar Special performance
Spring, in one night - inspired by Bruno Schulz's Spring in Tokyo, Japan
■15, 16 Mar DAH-DAH-SKO-DAH-DAH in Wien, Austria
http://www.tqw.at/de/events/dah-dah-sko-dah-dah
■12 Apr New creation with live pipe organ / Tokyo Metropolitan Theatre, Japan
■5 May La Folle Journée au Japon / Tokyo International Forum, Japan
■16-18 May MIRROR AND MUSIC / Novel Hall for Performing Arts in Taipei, Taiwan
http://www.novelhall.org.tw/dance/2013NHD/index.html
■24 May SKINNERS / Festspielhaus Bregenz, Austria
http://www.festspielhausbregenz.at/de/veranstaltungen/saburo-teshigawara
■27 May OBSESSION / Stadsschouwburg Amsterdam, Holland
http://www.stadsschouwburgamsterdam.nl/page.ocl?pageid=3&ev=48511
■Sep New creation / Tokyo
■Oct New choreographic piece for Paris Opera Ballet
■Nov European Tour (SKINNERS, Others)