Obsession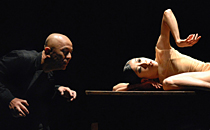 Choreography, set design, lighting design, costume design, music compilation : Saburo Teshigawara
Dance : Rihoko Sato, Saburo Teshigawara
Technical coordination / Lighting Assistant : Sergio Pessanha
Sound operation : Tim Wright
Stage manager : Markus Both
Duration: 60 minutes
Premiere : 29th May, 2009, Artrock Festival, Scène Nationale La Passerelle /France
- Available on tour -
A duet dance inspired by Luis Bunuel's "Un Chien Andalou".
An inner obsession tears apart the conscious.
Impossible desires become reality only through irrational love.
Love is crystalized into the seasons by death.
Gallery
REVIEWS
The Yomiuri 8, June 2010 by Hiroshi Tsutsumi
"In this piece, dance was not the visualization of the music, and the music was not an
accompaniment to the dance.
Music and movement both resonate each other maintaining a distance of perfect
balance. It was truly a quintessence of performing arts, the art of time."
Tokyo Shinbun 26, May 2010 by Ippei Fukuda
"The untouchable fretfulness that can never be solved. Destruction and rebirth. A
superior artist entrusts the future to the huge universe which is far beyond our human
providence."
Dance Magazine, Aug2010 edition by Shigeto Nuki
"The body of the dancer and the music from the violin create an emotion, which does
not necessarily belong to a specific person, or which does not need to be explained by
a specific story...... What the audience perceive from this piece "Obsession" is the
flame of pure emotion fulfilling the stage, touching the audience, and overwhelming the
whole air."
Côtes d'Armor.fr
Worry and fascination… such could be the feelings inspired by the new creation of the Japanese choreographer Saburo Teshigawara. Between body dislocation, tormented faces and games of sifted light… "Obsession – A Dog HAS" plays itself the nerves and of our emotions. The spectacle, presented in world-wide first to Rock Art, is inspired current measurement surrealist of Shine Buñuel and Salvador Dali. As to his habit, Saburo thought himself the music of his spectacle. Classical or contemporary, she sublimates the performance of the two dancers and takes the spectator in an unexpected trip. To condition to leave itself to carry...
"Paplar" Art Rock Saint-Brieuc Le magazine du festival
2009. May 30 Saturday
・ ・・Obviously, Saburo Teshigawara and Rihoko Sato have adopted the principle to release themselves, keeping nothing else but their bodies and their energy, together with some shadows, lightings and selection of hypnotic music. He in black clothes, she in flesh color, nothing decorated, the duet move off in the hollow noise. The dance, starts to break in pieces, hallucinate, sometimes very slow, with impressions of precision, and there, totally no laughter. Don't they have limits in their bodies? Don't they have the center of the gravity? Is there a trick with the lightings where they move so quick and exact? Most of the time, they both struggle in the corners, look for and find each other, but rarely touch. As in the true life or not?