Double District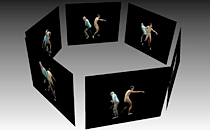 This is a 3D video installation in a six-sided architectural container that the audience can look into and freely circulate around.
One can experience the virtual reality as if dancers are really dancing inside this imaginary space.
Double District was produced for the ReActor designed by Sarah Kenderdine and Jeffrey Shaw.

Shown at:
"Un Volcan Numerique" Volcan Scene National du Le Havre (France)(2009)
Shanghai eARTS Festival(2008)
Direction, choreography, lighting design and costumes by Saburo Teshigawara
Performed by Saburo Teshigawara and Rihoko Sato
Conceived for Sarah Kenderdine's and Jeffrey Shaw's ReACTOR environment
Developed together with Volker Kuchelmeister
Production manager, technical director, stereoscopic cinematography, video and audio post-production:
Volker Kuchelmeister (iCinema)
Lighting design: Paul Nichola
Lighting technician: Rob Kelly (NIDA)
Production assistant: Sue Midgley (iCinema)
Producer: Richard Castelli - Epidemic
Co-produced by Karas, Tokyo - Epidemic, Paris, Berlin - Le Volcan Scène nationale, Le Havre - UNSW iCinema Centre, Sydney and kindly supported by Museum Victoria.
This work was filmed using iCinema's SPHERECAM technology conceived by Jeffrey Shaw and integrated by Volker Kuchelmeister. It was shot at the National Institute for Dramatic Arts (NIDA), Sydney, and post-produced at the UNSW iCinema Centre.