1.Jan.2019
A series of daily updated dance No.57
"flower in the winter"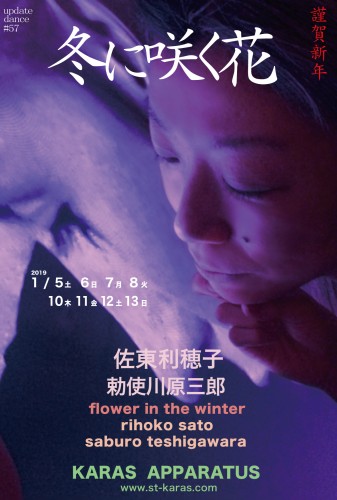 Date :
5 Jan. (Sat) 20:00
6 Jan. (Sun) 16:00
7 Jan. (Mon) 20:00
8 Jan. (Tue) 20:00
10 Jan. (Thu) 20:00
11 Jan. (Fri) 20:00
12 Jan. (Sat) 16:00
13 Jan. (Sun) 16:00

Direction/Lighting:Saburo Teshigawara
Dance:Rihoko Sato, Saburo Teshigawara
Duration : 60min
Venue : KARAS APPARATUS/B2 Hall

Fee : Reservation 3,000yen
[Ticket sold on the day of the performance 3,500yen]
*Please let us know if you are student.(Student 2,000yen)

Book Tickets : Mail:updatedance@st-karas.com
*Email subject "updatebooking"
*Please tell us your name, phone number, date and how many ticket do you want.
*Ticket booking is up to 24 hours of the previous day.

・Future performance schedule can be seen from here.(only Japanese)
・The schedule of dance workshop from here.