The Man Without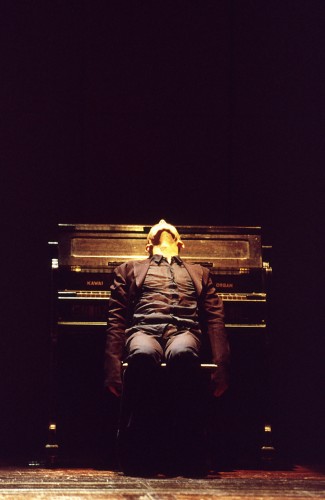 Direction, set/lighting/costume design:Saburo Teshigawara
Text from Robert Musil "The Man Without Quality"
Cast:Saburo Teshigawara, Rihoko Sato, Mie Kawamura, Jeef, Yuya Ide, Seitaro Hayashi, Nana&Nile
Lighting operation:Hiroki Shimizu (HALO)
Sound operation:Yoshihiro Mitsumori (SOUND MAN)
Stage manager : Toru Asaka, Kazuomi Kurosawa (OSK)
Duration:60mins

Production: Theatre X / KARAS
Premiere:11, Dec 2008 at Theatre X
The first of the experimental theatrical pieces, that is stilled continued at the Theatre X.
Dancers create abstract yet emotional layers of scenes to the recorded texts from Robert Musil's "The man without quality".
Gallery
REVIEWS
Dance Magazine Mar 2009 edition, by Naomi Inada
The body, space, light and music challenge the voice and words rising from the body. It surrounds, invades, and creates a dissonance. The relationship between body and words are experimented in a concrete and sensual way, and not by a theoretical abstract theory. It is a new form of performing arts.
The Performing Arts Journal 23 Jan 2009
This experiment has an immeasurable firing range, and the stimulation it gives to the one who sees it is beyond recognition.