MIROKU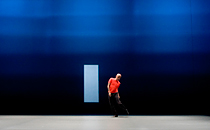 Choreography, set design, lighting design, costume design : Saburo Teshigawara
Music Compilation : Neil Griffiths, Kei Miyata, Saburo Teshigawara
Dance : Saburo Teshigawara
Duration: 60 minutes
Production: KARAS / New National Theatre Tokyo
Premiere : 8, Dec 2007 at New National Theatre Tokyo
- Available on tour -
MIROKU is a new solo piece danced by Saburo Teshigawara.
For Teshigawara, dance is the continuity of the future completing each second before us. Sense of time emerges from the body movement, and space from the movement and time.
Time, space, light, fragility, extremity, velocity,… all that we experience through his dance create an eternity beyond time, where everything seems to harmonize within such delicate yet powerful tension.
The blue box stage set, changes its phase each moment with the magic of his lighting design. Standing alone in this environment, Teshigawara's body starts to speak for itself.
Gallery
REVIEWS
Liberation 30 Jun 2008, by Marie-Christine Vernay
Saburo Teshigawara's Miroku at the Opera delighted spectators with its physical beauty, aided by the lighting and the rapid effects. Withdrawn, the artist swept us away on an interrupted reverie. Fascinating
Ballet-tanz Jun 2008 edition, by Akiko Tachiki
… an aesthetic eloquence in its crisp abstractness combined with poetic beauty…
… the artistic micro-cosmos presented here is profound and eternal, imaginatively reaching out into the expanse of space.
The Yomiuri 25 Dec 07, by Kumiko Murayama
DANCE OF THE SOUL - A BLISSFUL ENDING
Towards the end, little white confetti like snow start to fall, and suddenly the back wall falls down and opens up a vast darkness like the gate leading to space… And at that moment the dancer sitting against the side wall, slowly lies down…
This last moment, was a moment where the dancer became one with the universe in pure stillness…
The first half of the piece a life is born from darkness, as if floating in the water, pleasantly melting with the surrounding air.
The fluidity in the movement seems so natural, that stillness seems to be an extreme unnaturalness. But this fluid movement turns to an edgy vibrating movement together with exploding or metallic sound coming in. This expression was not just an interior transformation, but the change of the quality of the body itself, and this way of dancing made one feel as if the surrounding substances that the skin touches became something totally different. And beyond this materialized time, came the blissful nothingness.
Thus Teshigawara transformed his body quality skillfully, erasing the body and reaching the dance of the soul. He approached the ultimate form of dance, and created a magnificent epic of the human spirit. The lights and its colors created by himself was exceptionally beautiful.