Light Behind Light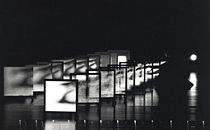 This installation is part of the stage set of Saburo Teshigawara's master dance piece Luminous (2001).
The light multiplies by its numerous reflections. By putting an object in between the panels, one can see the multiplication of light and its shadows, and the perspective.

Shown at:
Berliner Festspiele, Martin-Gropius-Bau (Berlin) 2007
Exhibition "Light!"presented at Borderline Festival in Maubeuge and Exit Festival in Creteil/Paris in March/April 2004
"Dance Today 11" (Yokohama) 2004
"This work is part of the set from my dance piece Luminous. The environment we live in is surrounded by various kinds of light. It is also the same on stage. Direct light, indirect light, absorbed light, and reflecting light. These are not only visual stimulation, but it needed to be a real source of energy that could actually be touched and felt by the dancers in the performance.
All these lights were created on stage by apparatus.
This installation is the form of multiplied light. The multiplication of the shadows created by the reflection of light is in proportion to the number of the reflecting panels.
When the performer makes movement, the number of shadows that appear on the white screen panels, depend on the place where the light is intercepted in the transparent panels in line.
The multiplication varies according to the dancer's position, and the number of them."
by Saburo Teshigawara.