IZUMI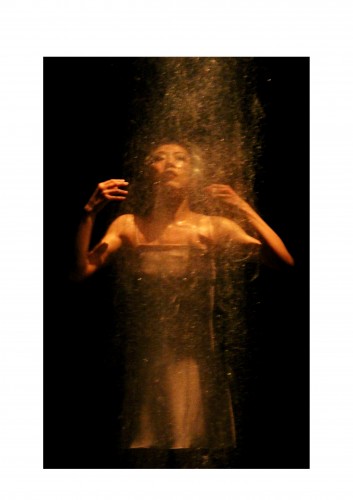 First piece of Rihoko Sato

Choreography, music composition, lighting, costumes Rihoko Sato
Dance Rihoko Sato

Lighting operation:Sergio Pessanha
Costume:Sonoko Takeda

Duration:60min
Premire:June, 2019 at Maison de la culture du Japon á Paris
Gallery
REVIEWS
Miho Morioka (Opera critic)
Up stage left, there stood a transparent "flowing water", made of bubble wrap film in clear, a little larger than Sato's height. It looked like a pillar of light or a trunk of a tree, and Sato's interaction with this pillar made me imagine Bernini's Daphne, who transforms herself into a laurel tree. Crouching on the floor staring at the border of shadow and light, she resembled Dali's Narcissus. Her physical presence was rather vivid and brilliant, with her bare arms, bare feet, and much sweat, which are not seen often in the works by Saburo Teshigawara in this atelier; yet she still kept some mythic mysteriousness within. At the last scene, standing behind the transparent water, it was as if she embraced some milky light itself and blurred herself into the mist. What a magical beauty!
Naomi Mori (Writer)
The symbolic fountain-like object on stage created a lasting effect and the beauty of the looming pale lighting made a lingering impression in Rihoko Sato's choreographic debut "IZUMI". Sato's trademark, her ethereal and supple movement with large scale and three dimensional effect was bedazzling.
Kumiko Murayama (Dance Critic)
At the beginning of "IZUMI", the movement of her arms with magnificently controlled speed was amazing, as if the ice had melted and had gone and fro in the water. And the following scene is fantastic as if a beautiful nymph appeared in the fountain filled up tranquility.
Kenji Kitagawa (Artist)
There is a large scale centrifugal that sharply cuts open space, and at the same time a very sensitive and detailed afferent in Sato's dancing. This duality creates a unique and strange matière impossible to describe with words.
The expression of fading out in the last moment, had a seductive effect and gave us vivid impression touching our souls.
Hatsuho Kodama (Dance Critic)
Although it overlaps mostly with the aesthetic sense of Saburo Teshigawara, because it overlaps, the individuality of Sato is highlighted even more.
The relationship between music and object is intimate, based on the sense of touch, which is a major feature of her. She seemed to be interacting spontaneously with the music and having conversation with the installation.
The high-speed movement with Bach's sublime music accompanied by the entire body breathing filled the space with her energy and emotion. With still maintaining the sacredness she shows in Teshigawara's pieces, her first choreographic piece showed intensity stemming from her independent philosophy.
Makoto Namiki (Art Critic)
Such fragrant dancing! Rihoko Sato's choreographic debut "Izumi" … the willowy poetry within the secret dance in the darkness of the city, in praise of shadows. A dance of the dark night like a secret ritual in the moonlight or in the bottom of the deep sea, vivid, fresh and aesthetic. Transcendent and poetic.