Empty Hourglass Sanatorium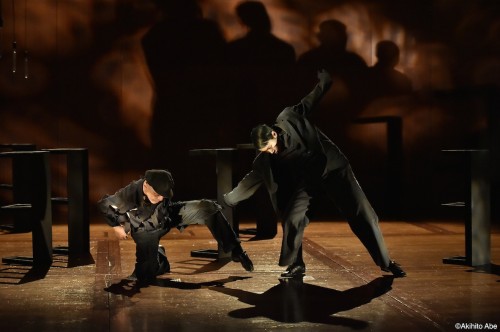 Direction, lighting design:Saburo Teshigawara
Cast:Saburo Teshigawara, Rihoko Sato, Mie Kawamura, Eri Wanikawa, Kafumi Takagi, Rika Kato, Shingo Yoshizawa, Seitaro Hayashi, Miyuki Torii
Lighting operation:Hiroki Shimizu (HALO)
Sound operation : Yoshihiro Mitsumori, Yuhei Ohno (SOUND MAN)
Duration:60mins

Production: KARAS
Coproduction:Theatre X
Premiere:22nd March,2014 at Theatre X
Gallery
REVIEWS
Dance Magazine 2014 June Issue by Masashi Miura
It should be emphasized that Teshigawara choreographed not to music but to the words of Schulz themselves.
What is more, what he created out of Schultz's short story was neither theatre nor pantomime, nor did he just explain it with the body.
He treated this excellent prose as poetry, and contrasted it with dance.