Double Silence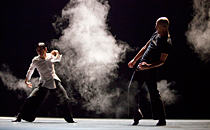 Choreography, set/lighting/costume design, Music compilation:Saburo Teshigawara
Dancers:Saburo Teshigawara, Rihoko Sato, Eri Wanikawa, Riichi Kami, Kafumi Takagi, Nana Yamamoto, Minami Shioya, Seri Sugishita, Masumi Tajiri, Seitaro Hayashi
Lighting operation:Hiroki Shimizu (HALO)
Sound operation:Yoshihiro Mitsumori (SOUND MAN)
Stage manager : Kazuomi Kurosawa (OSK)
Duration:105mins

Production: Bunkamura
Premiere:21, Mar 2009 at Bunkamura, Theatre Cocoon
Apart from Saburo Teshigawara and the exceptional Rihoko Sato, there are many young members participating. These young dancers were chosen by audition for an education project Teshigawara did at the New National Theatre in Tokyo 2008. Some of the participants of this project have since then became members of the company sharing the profound methods of Saburo Teshigawara.
In this piece, Saburo Teshigawara seeks for the "silence" of the body.
One can never experience a state with "no sound". It is impossible as long as we are living beings surrounded by air.
So what is silence? Teshigawara seeks the answer in the body and what it creates.
The acoustic creates an environment that can also be experienced by the audience. The silence and the vibration penetrates the struggling bodies.
Gallery
REVIEWS
The Yomiuri 24 Mar 2009, by Akiko Tachiki
In "Double Silence", Saburo Teshigawara seeks from his unique point of view the theme of silence and sound, and no-sound. He thinks of silence as something physical, and paradoxically lets us see the existence of life within the notion of silence.
… A reality of now carved into shape by a highly sharp artistic sensibility.
The Asahi 27 Mar 2009, by Ryoko Sasaki
…It is overwhelming… In the sharpness there is also a floating and airy sense. The slowness and speed create soft shiny waves.