Dancer R's Cell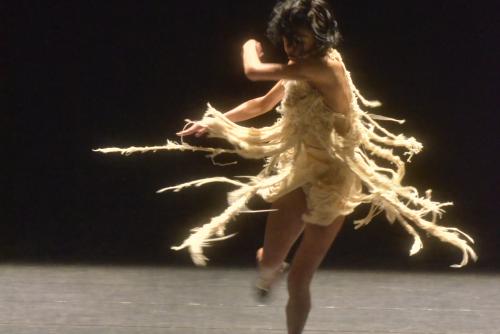 Direction, choreography, set design, lighting design:Saburo Teshigawara
Cast:Rihoko Sato, Jeef, Eri Wanikawa, Rika Kato, U18 dance workshop participants
Lighting operation:Hiroki Shimizu (HALO)
Sound operation:Yoshihiro Mitsumori (SOUND MAN)
Stage : Tokyo Metropolitan Theatre staff
Duration:60mins

Production: Tokyo Metropolitan Theatre
Coproduction:KARAS
Premiere:26th January, 2013 at Tokyo Metropolitan Theatre, Theatre East
A dancer is on stage, yet what we see seems to be deeper inside the body, as if traveling through the Dancer R's cells beyond or before memories or thoughts.
Rihoko Sato's exceptionally sensitive body enables to take the audience through this unique experience.
Participants of the U18 dance workshop are also taking part in this performance, each body like a yet to be born cell.
Gallery
REVIEWS
The Koumei 16 Feb 2013, by Yuichi Konno
It seems like Teshigawara is trying to transplant the genes of his dance to the life cell called "Dancer R" - Rihoko Sato. And not as a clone, but he is actually trying to transcend it by strengthening and extending it.
Rihoko Sato is an incredible dancer who is continuously evolving, but Teshigawara, who is choreographing, is also continuing a fiercely beautiful challenge.