DAH-DAH-SKO-DAH-DAH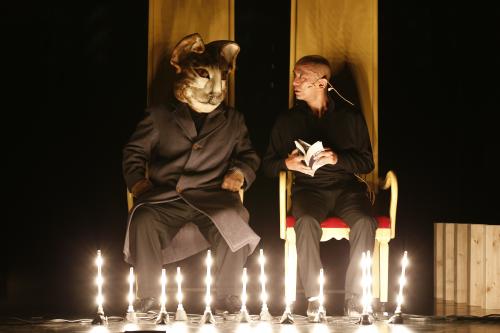 Choreography, set design, lighting design, costume design
Saburo Teshigawara
Dancers
Saburo Teshigawara, Rihoko Sato,
Eri Wanikawa, Rika Kato
Technical coordination/Lighting Assistant
Sergio Pessanha
Sound
Fabrice Moinet
Stage manager
Markus Both
Duration: 70 minutes
Premiere : 23rd November, 2012 at Tokyo Metropolitan Theatre
Production: KARAS, FESTIVAL/ TOKYO
- Available on tour -
Inspired by the Kenji Miyazawa poem "Haratai Kenbairen", "DAH-DAH-SKO-DAH-DAH" (premiered 1991) is one of his major works, staged in 9 countries and 18 cities around the world.
The resonance of kenbai taiko drums from northern mountains. The sound of the wind. The throbbing of a heart. Whilst weaving Miyazawa's poetry around the world, Teshigawara has been investigating its words, getting closer to what came before the birth of music: clusters of sound, sand, noise. Sometimes strong, sometimes faint - sound shakes the air, it transforms bodies and space. Teshigawara will dismantle Miyazawa's poem and create a place where it is reborn, 21 years on from its debut. With his truly global sensibility, Teshigawara's career knows no barriers of east and west. Now he will re-stage and re-create his experiment in listening to Miyazawa's folk poetry and spinning it through the filter of Occidental modernism.
Gallery
REVIEWS
The Yomiuri 18 Dec 2012, by Akiko Tachiki
21 years from the premiere. Brilliant ideas to recreate this piece to breathe in the air of today. We can calmly feel the repose of souls which is at the bottom of the sword dance that Kenji Miyazawa read about…
Teshigawara's solid universe and Kenji's universe encountered and resonated.
The Koumei 16 Jan 2013, by Megumi Ikeno
With various contrasts, what arises is the fact that by thoroughly pursing movement with profound commitment, the air of the space itself changes.
More than 20 years from the premiere, all members except for the choreographer himself has changed. With the participation of the young generation, the piece has gained a new image.
It was an unforgettable night, where we strongly felt the potential of an ever-evolving dance.