"Acis and Galatea" by Georg Friedrich Haendel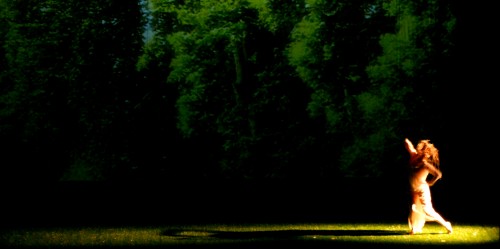 Composed by Georg Friedrich Haendel
Libretto by John Gay, Alexander Pope and John Hughes

Direction, stage/light/costume design: Saburo Teshigawara
Conductor: Leonardo Garcia Alarcon
Production : Festival d'Aix-en-Provence and the Académie européenne de musique.
Coproduction : Academia Opera Verona and Teatro La Fenice Venice
Supported by : ENOA
Premiere : Jul 2011 at Festival d'Aix-en-Provence (France).
Acis and Galatea
Joy and sorrow sway and tremble
We cannot hide it inside our bodies.
Vibrating life.
The stream of life, stream of blood.
Transparent blood.
Stream of water.
The flowing water is the blood of life.
The body sculpts a "limited eternity".
Like death as it approaches and fades away.
From the death, a new stream is born.
A body called forest.
Resonance overflowing from the body.
Resonating beyond the forest.
The stream of water resonating from the forest of darkness.
A forest called body.
The stream of transparent blood from beyond the forest.
Where death heads to.
Where blood evaporates.
Where water evaporates.
Where life and death meet again.
Transparent evaporated life and death fly in the air.
That is called wind.
Anger is blown by the wind.
Love is shattered and evaporates.
Water springs.
Love flows.
by Saburo Teshigawara
Gallery