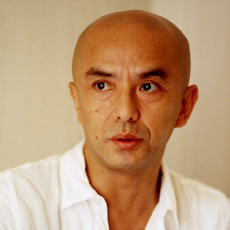 Saburo Teshigawara began his unique creative career in 1981 in his native Tokyo after studying plastic arts and classic ballet. In 1985, he formed KARAS with Kei Miyata and started group choreography and their own activities. Since then, he and KARAS have been invited every year to perform in major international cities around the world.
In addition to solo performances and his work with KARAS, Saburo Teshigawara has also been receiving international attention as a choreographer/director. He has been commissioned by many international Ballet companies such as the Paris Opera to create repertoire pieces for the company.
Teshigawara has likewise received increasing international attention in the visual arts field, with art exhibitions, films/videos as well as designing scenography, lighting and costume for all his performances.
Teshigawara's keenly honed sculptural sensibilities and powerful sense of composition, command of space and his decisive dance movements all fuse to create a unique world that is his alone. Keen interests in music and space have led him to create site-specific works, and collaboration with various types of musicians.
Besides the continuous workshops at the KARAS studio in Tokyo, Saburo Teshigawara has been involved in many education projects. Recent young members of the company KARAS are from the project Dance of Air, an educational project bringing out a performance as a culmination of a year-long workshop process, produced by the New National Theatre Tokyo. S.T.E.P. (Saburo Teshigawara Education Project) has been initiated since 1995 with partners in the UK, also in the same style as Dance of Air. In 2004, he was selected as the mentor of dance for The Rolex Mentor and Protégé Arts Initiative, to work for one year with a chosen protégé. From 2006 to 2013, he taught at the College of Contemporary Psychology, St. Paul's (Rikkyo) University in Japan. Since 2014, he is professor at the Tama Art University, department of Scenography Design, Drama, and Dance. Through these various projects, Saburo Teshigawara continues to encourage and inspire young dancers, together with his creative work.
Since 2013, he has established his own private creative space KARAS APPARATUS in Ogikubo, Tokyo. Here, he constantly creates a performance series called "Update Dance".
His work has won numerous awards and honours in Japan and abroad, including a Bessie Award in 2007, the Medal of Honor by the Emperor of Japan in 2009 and in 2017 he was made an Officer of the Order of Arts and Letters in France.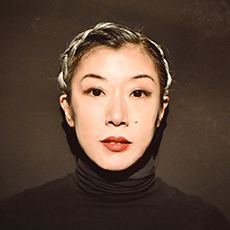 Rihoko Sato studied gymnastics in England and the United States, where she lived until age 15. Having participated in KARAS' workshops in 1995, she joined the group in 1996.
Since then, she has performed in all group works, and also works as the artistic assistant to Saburo Teshigawara in all his creative activities. She is acclaimed internationally, as one of the main figures in Teshigawara's works. In 2009 she presented her first solo dance SHE directed by Teshigawara, leaving a striking and emotional impression. Her exceptionally sensitive body and nerves create a wide range of dynamism, from melting fragility to sharp intensity, opening a new dimension for physical expression.
Rihoko Sato also assisted with KARAS' education project S.T.E.P. and worked as dance mistress for Teshigawara's commissioned works for other ballet companies. She received the Best Dancer Award for her duet with Vaclav Kunes in Scream and Whisper at Les Étoiles de Ballet2000 Awards in 2005 in Cannes, France, the Japan Dance Forum award for 2007, the Forty edition of the Premio Positano "Leonide Massine" Per la Danza 2012 and most recently the Japan dance critic new face award (2016).The Minister of Education,Culture,Sports,Science and Technology's Art Encouragement Prize[of dance](2018)